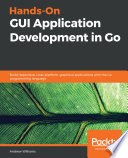 Hands-On GUI Application Development in Go : Build Responsive, Cross-Platform, Graphical Applications with the Go Programming Language.
Hands-On GUI Application Development in Go will help you to extend your knowledge of Golang and become a confident graphical application developer with Go. The book explores many graphical libraries available for Go to show how GUIs can be created for applications. This book is a guide to the most p...
Bibliographic Details
Main Author:
Corporate Author:
Format:

Book

Language:

English

Published:

Birmingham :

Packt Publishing Ltd,

2019.



Subjects:
This item is not available through EZBorrow. Please contact your institution's interlibrary loan office for further assistance.
Lehigh
Holdings details from Lehigh

| | |
| --- | --- |
| Call Number: | Electronic book |
Villanova
Holdings details from Villanova
Call Number:
QA76.7 .W555 2019
QA76.73.G63