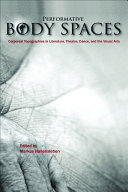 Performative body spaces : corporeal topographies in literature, theatre, dance, and the visual arts /
"The human body as cultural object always has and is a performing subject, which binds the political with the theatrical, shows the construction of ethnicity and technology, unveils private and public spaces, transgresses race and gender, and finally becomes a medium that overcomes the borders...
Bibliographic Details
Corporate Author:
Other Authors:
Format:

Conference Proceeding

Book

Language:

English

Published:

Amsterdam ; New York, NY :

Rodopi,

©2010.



Series:
Critical studies (Amsterdam, Netherlands) ; v. 33.

Subjects:
Search Result 1
Amsterdam ; New York : Rodopi, 2010
This item is not available through EZBorrow. Please contact your institution's interlibrary loan office for further assistance.
Search Result 2
Amsterdam ; New York, NY : Rodopi, 2010
//IF NOT LOGGED IN - FORCE LOGIN ?> //ELSE THEY ARE LOGGED IN PROCEED WITH THE OPEN URL CODE:?>

Conference Proceeding

Book