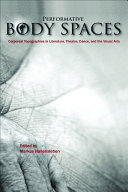 Performative body spaces : corporeal topographies in literature, theatre, dance, and the visual arts /
"The human body as cultural object always has and is a performing subject, which binds the political with the theatrical, shows the construction of ethnicity and technology, unveils private and public spaces, transgresses race and gender, and finally becomes a medium that overcomes the borders...
Bibliographic Details
Corporate Author:
Other Authors:
Format:

Conference Proceeding

Book

Language:

English

Published:

Amsterdam ; New York, NY :

Rodopi,

©2010.



Series:
Critical studies (Amsterdam, Netherlands) ; v. 33.

Subjects:
Table of Contents:
Introduction: performative body spaces / Markus Hallensleben
Metaphors of dancing and the human body in Nazi concentration camps / Bożena Karwowska
From dance under the swastika to movement education: a study of embodied culture / Patricia Vertinsky
Political body spaces in the performances of William Forsythe / Gabriele Brandstetter
Reading skin signs: decoding skin as the fluid boundary between self and other in Yoko Tawada / Jeremy Redlich
The body in space: layers of gender in Japanese classical dance / Colleen Lanki
Counter-narrativity and corporeality in Kishida Rio's Ito Jigoku / Yasuko Ikeuchi
The absence of voices in the theatre space: Ku Nauka's production of Medea / Eiichiro Hirata
Staging culture- staging nature: Polynesian performance as nature and nature as performance in Hawaii / Sabine Wilke
Moving through fashion in nineteenth-century France / Sima Godfrey
Reading bodies: female secrecy and sexuality in the works of Renoir and Degas / Kathryn Brown
Corporeal topographiess of the image zone: from Oskar Kokoschka's murder of metaphor to Georges Bataille's acéphale / Rainer Rumold
Somatechnics and makeover reality TV: the symbiotic viewer/participant relationship / Beth Pentney
The body as object: from body image to meta-body / Robert Pritchard
Touched: organization, control and emergence in choreographed performace systems / Henry Daniel.