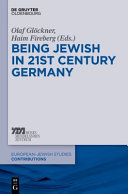 Being Jewish in 21st-century Germany /
The unexpected immigration wave from the former Soviet Union has stabilized and enlarged Jewish life in Germany up from the 1990ies. No doubt: Jews will continue to live in Germany. But what does it mean to live a Jewish life in present Germany? How is it reflected in culture? Who are the new Jewish...
Bibliographic Details
Other Authors:
,
Format:

Book

Language:

English

Published:

Berlin [Germany] ; Boston [Massachusetts] :

De Gruyter Oldenbourg,

2015.



Series:
Europäisch-jüdische Studien. Beiträge ; Volume 16.

Subjects:
Table of Contents:
Frontmatter
Table of Contents
Preface
Jews in Divided Germany (1945-1990) and Beyond / Wolffsohn, Michael
The Making of Holocaust Trauma in German Memory / Elm, Michael
Saving the German-Jewish Legacy? / Schoeps, Julius H.
Germany's Russian-speaking Jews / Ben-Rafael, Eliezer
Russian Food Stores and their Meaning for Jewish Migrants in Germany and Israel / Bernstein, Julia
Moving from the Present via the Past to Look toward the Future / Kotowski, Elke-Vera
Israelis and Germany / Oz-Salzberger, Fania
Reconceptualization of Jewish Identity as Reflected in Contemporary German-Jewish Humorist Literature / Mittelmann, Hanni
Hava Nagila / Troyke, Karsten
Aliyah Le Berlin / Johnston, Zachary
Educated Anti-Semitism in the Middle of German Society / Schwarz-Friesel, Monika
Anti-Semitism within the Extreme Right and Islamists' Circles / Jikeli, Günther
Thrice Tied Tales / Eksner, H. Julia
New Structures of Jewish Education in Germany / Glöckner, Olaf
A Vision Come True / Homolka, Walter
Authors and Editors
Index
Names Index.