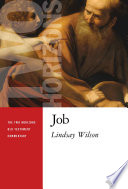 Job /
In this commentary Lindsay Wilson shows the book of Job to be a coherent literary work that addresses this question: Is it possible for humans to have genuine faith in God regardless of their circumstances? Wilson argues that Job's bold, sometimes questioning cries to God are portrayed as legit...
Bibliographic Details
Main Author:
Format:

Book

Language:

English

Published:

Grand Rapids, Michigan :

William B. Eerdmans Publishing Company,

2015.



Series:
Two horizons Old Testament commentary.

Subjects:
Table of Contents:
Acknowledgments
Abbreviations. Introduction. Who Wrote the Book, and When Was It Written?
Are These Real Historical Events and the Actual Words Spoken?
How Should We Read the Book?
Why Was the Book Written?
How Have Others Understood It?
How Do the Different parts of the Book Fit Together?
What is the Structure of the Book?
Is the Text of Job Reliable?
Why Is the Book So Long and Repetitive?. Commentary. 1:1
2:13: The Prologue
3:1-31:40: The Dialogue
32:1
42:6: The Verdicts
42:7-17: The Epilogue. Theological Themes. Suffering
Retribution and Justice
The Litigation Motif
Lament and Complaint to God
Persevering Faith
The Fear of God
Humanity
God
Creation. Job and Theology. Job and Biblical Theology
Job and Systematic Theology
Job and Moral Theology
Job and Practical Theology. Bibliography. Index of Authors. Index of Scripture References.