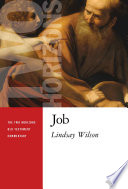 Job /
In this commentary Lindsay Wilson shows the book of Job to be a coherent literary work that addresses this question: Is it possible for humans to have genuine faith in God regardless of their circumstances? Wilson argues that Job's bold, sometimes questioning cries to God are portrayed as legit...
Bibliographic Details
Main Author:
Format:

Book

Language:

English

Published:

Grand Rapids, Michigan :

William B. Eerdmans Publishing Company,

2015.



Series:
Two horizons Old Testament commentary.

Subjects:
This item is not available through EZBorrow. Please contact your institution's interlibrary loan office for further assistance.
Lehigh
Holdings details from Lehigh

| | |
| --- | --- |
| Call Number: | Electronic book |
Villanova
Holdings details from Villanova

| | |
| --- | --- |
| Call Number: | BS1415.53 .W55 2015 |