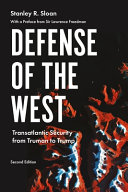 Defense of the West : transatlantic security from Truman to Trump /
Bibliographic Details
Main Author:
Format:

Book

Language:

English

Published:

Manchester, UK :

Manchester University Press,

2020.



Edition:

Second edition /

Subjects:
Table of Contents:
Machine generated contents note: pt. I Cold War alliance
1. The Transatlantic Bargain And Defense Of The West
2. Genesis Of The Bargain
3. The Transatlantic Bargain Revised
4. The Bargain Through The Cold War, 1954--1989
5. The United States And Europe At The End Of The Cold War: Some Fundamental Factors
pt. II Post-Cold War alliance
6. The 1990S: Transitions And Challenges
7. The 2000S: Turbulent Transatlantic Ties
8. The 2010S: New Tasks, New Traumas
pt. III Defense of the West
9. External Threats And Internal Challenges
10. Can The West Survive?.