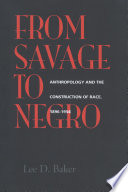 From savage to Negro : anthropology and the construction of race, 1896-1954 /
Lee D. Baker explores what racial categories mean to the American public and how these meanings are reinforced by anthropology, popular culture, and the law. Focusing on the period between two landmark Supreme Court decisions-Plessy v. Ferguson (the so-called "separate but equal" doctrine...
Bibliographic Details
Main Author:
Format:

Book

Language:

English

Published:

Berkeley :

University of California Press,

©1998.



Subjects:

This item is not available through EZBorrow. Please contact your institution's interlibrary loan office for further assistance.