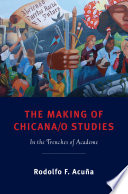 The Making of Chicana/o Studies : In the Trenches of Academe.
The Making of Chicana/o Studies traces the philosophy and historical development of the discipline from precursor movements to the Civil Rights era to today, focusing on the political machinations in higher education that sought to destroy it. As a renowned leader, activist, scholar, and founding me...

This item is not available through EZBorrow. Please contact your institution's interlibrary loan office for further assistance.