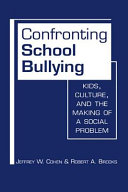 Confronting school bullying : kids, culture, and the making of a social problem /
"Is bullying an innocent part of growing up ... or a serious problem requiring large-scale policy remedies? What is behind our rapidly changing perceptions of "acceptable" behavior? And when is the remedy worse than the problem? In their in-depth view of school bullying, Jeffrey Cohen...
Bibliographic Details
Main Author:
Other Authors:
Format:

Book

Language:

English

Published:

Boulder Colorado :

Lynne Rienner Publishers, Inc.,

2014.



Series:
Social problems, social constructions.

Subjects:
Search Result 1
//IF NOT LOGGED IN - FORCE LOGIN ?> //ELSE THEY ARE LOGGED IN PROCEED WITH THE OPEN URL CODE:?>
Search Result 2
This item is not available through EZBorrow. Please contact your institution's interlibrary loan office for further assistance.
Search Result 3
//IF NOT LOGGED IN - FORCE LOGIN ?> //ELSE THEY ARE LOGGED IN PROCEED WITH THE OPEN URL CODE:?>