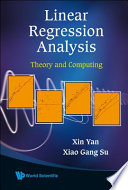 Linear regression analysis : theory and computing /
This volume presents in detail the fundamental theories of linear regression analysis and diagnosis, as well as the relevant statistical computing techniques so that readers are able to actually model the data using the methods and techniques described in the book. It covers the fundamental theories...
Bibliographic Details
Main Author:
Corporate Author:
Other Authors:
Format:

Book

Language:

English

Published:

Singapore ; Hackensack, N.J. :

World Scientific Pub. Co.,

©2009.



Subjects:

This item is not available through EZBorrow. Please contact your institution's interlibrary loan office for further assistance.