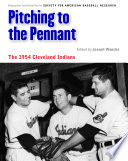 Pitching to the pennant : the 1954 Cleveland Indians /
"A commemorative volume on the 1954 Cleveland Indians"--
Bibliographic Details
Main Author:
Other Authors:
, , ,
Format:

Book

Language:

English

Published:

Lincoln :

University of Nebraska Press,

2014.



Series:
Memorable teams in baseball history.

Subjects:
Table of Contents:
Hank Greenberg
Al Lopez
Tony Cuccinello
Mel Harder
Red Kress
Bill Lobe
A seven-year-old's perspective
Timeline, April 13-April 30
Bob Feller
Dave Hoskins
Don Mossi
Hank Majeski
Dale Mitchell
Mike Garcia
Timeline, May 1-May 16
Larry Doby
George Strickland
Cleveland Stadium
Jim Hegan
Timeline, May 17-May31
Dave Philley
Bob Lemon
Rudy Regalado
Ray Narleski
Timeline, June 1-June 15
Same Dente
1954 Cleveland Indians by the numbers
Jim Dyck
Bob Chakales
Timeline, June 16-June 30
Al Rosen
Wally Westlake
Dick Tomanek
Dave Pope
Timeline, July 1-July 13
Luke Easter
Early Wynn
Hal Naragon
1954 all-star game
Timeline, July 15-July 31
Al Smith
Vic Wertz
Hal Newhouser
Bill Glynn
Timeline, August 1- August 15
Jose G. Santiago Guzman
Bob Kennedy
Mickey Grasso
Bobby Avila
Joe Ginsberg
Timeline, August 17-August 31
Cleveland Indians World Championships, 1920 and 1948
Rocky Nelson
Art Houtteman
Bob Hooper
Timeline, September 1-September 14
Ken Coleman
Jim Britt
Jimmy Dudley
Timeline, September 17-September 26
1954 World Series
A day in the grandstand.