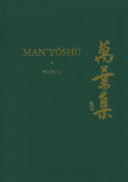 Man'yōshū, book 14 : a new English translation containing the original text, kana transliteration, romanization, glossing and commentary /
Bibliographic Details
Other Authors:
Format:

Book

Language:

English




Japanese

Published:

Leiden, The Netherlands ; Danvers, MA :

Global Oriental,

2012.



Subjects:

This item is not available through EZBorrow. Please contact your institution's interlibrary loan office for further assistance.