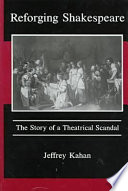 Reforging Shakespeare : the story of a theatrical scandal /
Bibliographic Details
Main Author:
Corporate Author:
Format:

Book

Language:

English

Published:

Bethlehem : London :

Lehigh University Press ; Associated University Presses,

c1998.



Subjects:
Description
Physical Description:
271 p. : ill. ; 24 cm.
Also available on the World Wide Web.
Bibliography:
Includes bibliographical references and index.
ISBN:

0934223556 (alk. paper)

Access:
Electronic access restricted to Villanova University patrons.