Useless beauty : flowers and Australian art /
The story of Australian art does not begin and end with landscape. This book puts flowers front and centre, because they have often been ignored in preference for more masculine themes.Departing from where studies of single flower artists leave off, Useless Beauty embraces the general topic of flowe...
Bibliographic Details
Main Author:
Format:

Book

Language:

English

Published:

Newcastle upon Tyne :

Cambridge Scholars Publishing,

2015.



Subjects:
Search Result 1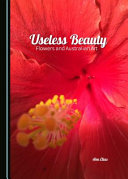 This item is not available through EZBorrow. Please contact your institution's interlibrary loan office for further assistance.