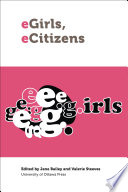 EGirls, eCitizens /
"EGirls, eCitizens is a landmark work that explores the many and varied forces shaping girls' and young women's experiences of privacy, identity, and equality in our digitally networked society. Drawing on the multi-disciplinary expertise of a remarkable team of leading Canadian and i...
Bibliographic Details
Main Authors:
,
Format:

Book

Language:

English

Published:

Ottawa :

University of Ottawa Press,

2015.



Series:
Law, technology, and media.

Subjects:

This item is not available through EZBorrow. Please contact your institution's interlibrary loan office for further assistance.