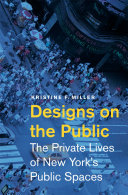 Designs on the public : the private lives of New York's public spaces /
Bibliographic Details
Main Author:
Format:

Book

Language:

English

Published:

Minneapolis :

University of Minnesota Press,

c2007.



Subjects:
Table of Contents:
Public space as public sphere : the front steps of New York's City Hall
Art or lunch? redesigning a public for Federal Plaza
Condemning the public in the new Times Square
Bamboozled? access, ownership, and the IBM Atrium
Targeted publics and Sony Plaza
Trump Tower and the aesthetics of largesse
Epilogue : after 9/11.