Kiumajut (talking back) : game management and Inuit rights, 1900-70 /
"Kiumajut (Talking Back):Game Management and Inuit Rights 1900-70 examines Inuit relations with the Canadian state, with a particular focus on two interrelated issues. The first is how a deeply flawed set of scientific practices for counting animal populations led policymakers to develop polici...
Bibliographic Details
Main Author:
Other Authors:
Format:

Book

Language:

English

Published:

Vancouver [B.C.] :

UBC Press,

[2007]



Subjects:
Search Result 1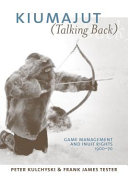 //IF NOT LOGGED IN - FORCE LOGIN ?> //ELSE THEY ARE LOGGED IN PROCEED WITH THE OPEN URL CODE:?>
Search Result 2
This item is not available through EZBorrow. Please contact your institution's interlibrary loan office for further assistance.