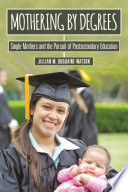 Mothering by degrees : single mothers and the pursuit of postsecondary education /
"In Mothering by Degrees, Jillian Duquaine-Watson shows how single mothers pursuing college degrees must navigate a difficult course as they attempt to reconcile their identities as single moms, college students, and in many cases, employees. They also negotiate a balance between what they thin...
Bibliographic Details
Main Author:
Format:

Book

Language:

English

Published:

New Brunswick, New Jersey :

Rutgers University Press,

[2017]



Series:
American campus.

Subjects:
Table of Contents:
Prologue: Lessons from my grandmother
The politics of single motherhood in the United States
Trying to make ends meet
Clocks and calendars
Navigating America's child care crisis
Mothering alone in a chilly climate.