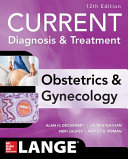 Current diagnosis & treatment obstetrics & gynecology
The 11th edition has been highly acclaimed, achieving national and international accolades for its up-to-date comprehensive review of the field of obstetrics and gynecology (OB/GYN). The 12th edition is even better. The content has been expanded, and extensive updates have been made.
Bibliographic Details
Other Authors:
, , ,
Format:

Electronic

Book

Language:

English

Published:

New York, N.Y. :

McGraw-Hill Education LLC.,

c2013, c2007, c2003, c1991, c1987.



Edition:

12th ed.

Series:
McGraw-Hill's AccessMedicine.
A Lange medical book.

Subjects:

This item is not available through EZBorrow. Please contact your institution's interlibrary loan office for further assistance.