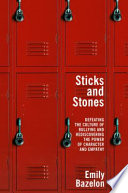 Sticks and stones : defeating the culture of bullying and rediscovering the power of character and empathy /
BESTSELLER Being a teenager has never been easy, but in recent years, with the rise of the Internet and social media, it has become exponentially more challenging. Bullying, once thought of as the province of queen bees and goons, has taken on new, complex, and insidious forms, as parents and educat...
Bibliographic Details
Main Author:
Format:

Book

Language:

English

Published:

New York :

Random House,

©2013.



Edition:

First edition.

Subjects:

This item is not available through EZBorrow. Please contact your institution's interlibrary loan office for further assistance.