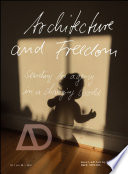 Architecture and freedom : searching for agency in a changing world.
The issue is split into four sections. Featuring contributions by prominent architects Reinier de Graaf of OMA and Alejandro Aravena of Elemental, the first section focuses on the values that shape the practice of architecture, and the relevance, or otherwise, of moral principles or ethical codes an...
This item is not available through EZBorrow. Please contact your institution's interlibrary loan office for further assistance.
Villanova
Holdings details from Villanova

| | |
| --- | --- |
| Call Number: | NA2543.S6 |