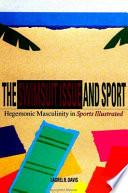 The swimsuit issue and sport : hegemonic masculinity in Sports illustrated /
"This study of the Sports Illustrated swimsuit issue demonstrates how the magazine encourages individual and institutional practices that create and maintain inequality. Laurel Davis illustrates how the interactions of media production, media texts, media consumption, and social context influen...
Search Result 1
This item is not available through EZBorrow. Please contact your institution's interlibrary loan office for further assistance.