Laposata's Laboratory Medicine The Diagnosis of Disease in the Clinical Laboratory /
It is much easier, especially for a first-time learner, to have the most important material in a single field presented in one scholarly work.It is the most comprehensive textbooks in laboratory medicine, many of which still exist, were written at a level for experts in the field. It was said freque...
Search Result 1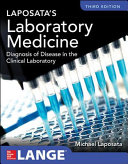 New York, N.Y. : McGraw-Hill Education LLC., 2019
3rd ed.
This item is not available through EZBorrow. Please contact your institution's interlibrary loan office for further assistance.