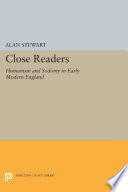 Close Readers : Humanism and Sodomy in Early Modern England.
Humanism, in both its rhetoric and practice, attempted to transform the relationships between men that constituted the fabric of early modern society. So argues Alan Stewart in this ground-breaking investigation into the impact of humanism in sixteenth-century England. Here the author shows that by...
Bibliographic Details
Main Author:
Format:

Book

Language:

English

Published:

Princeton :

Princeton University Press,

2014.



Series:
Princeton legacy library.

Subjects:
This item is not available through EZBorrow. Please contact your institution's interlibrary loan office for further assistance.
Villanova
Holdings details from Villanova