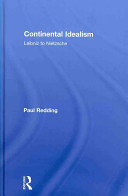 Continental idealism : Leibniz to Nietzsche /
"Standard accounts of nineteenth-century German philosophy often begin with Kant and assess philosophers after him in light of their responses to Kantian idealism. In Continental Idealism, Paul Redding argues that the story of German idealism begins with Leibniz. Redding begins by examining Lei...
Bibliographic Details
Main Author:
Format:

Book

Language:

English

Published:

New York :

Routledge,

2009.



Subjects:
Table of Contents:
The seventeenth century background to the emergence of continental idealism
Monadological world of Gottfried Wilhelm Leibniz
Kant's development from physical to moral monadologist
Kant and the "Copernican" conception of transcendental philosophy
The moral framework of metaphysics
The later Kant as a "post-Kantian" philosopher?
Jena post-Kantianism: Reinhold and Fichte
The Jena romanticism of Friedrich Schlegel and Friedrich Schelling
Hegel's idealist metaphysics of spirit
Schopenhauer, Nietzsche and the ambiguous end of the idealist tradition
Postscript: idealism after the end of (its) history.