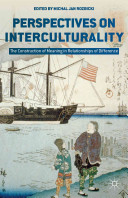 Perspectives on interculturality : the construction of meaning in relationships of difference /
"The intercultural occurs in the space between two or more distinct cultures that encounter each other, an area where meaning is translated and difference is negotiated. A better, more systemic understanding of these processes is a major challenge of our time. Intercultural themes have thus far...
Bibliographic Details
Other Authors:
Format:

Book

Language:

English

Published:

New York, NY :

Palgrave Macmillan,

2015.



Subjects:
Table of Contents:
Introduction: Intercultural Studies: The Methodological Contours of an Emerging Discipline / Michal Jan Rozbicki
Part I. Conceptualizing Interculturality: 1. Apperception, the Influence of Culture, and Interracial Humor / Michael D. Barber; 2. Toward Foundations for Intercultural Studies: Considering Mobility Studies and the Study of Religion / Paul Kollman; 3. Toward the Materiality of Intercultural Dialogue, Still a "Miracle Begging for Analysis" / Teruyuki Tsuji
Part II. Interculturality and Social Identity: 4. Group Identity and Attitudes in Guatemala: The Role of Ethnic Interculturality / Brien K. Ashdown, Judith L. Gibbons, and Yetilú de Baessa; 5. Fear of the Knotted Cord: Pueblo-Spanish Relations after the 1680 Revolt / Tracy L. Brown; 6. Bienvenido, Mr. Inquisitor: On the Sociocultural Dynamics of Inquisitorial Visits / William P. Childers
Part III. A Global Stage for Interculturality: 7. Interculturality, Cosmopolitanism, and the Role of the Imagination: A Perspective for Communicating as Global Citizens / Nilanjana Bardhan, Miriam Sobré-Denton; 8. Toward a Cosmopolitan Sociology: Understanding Cosmopolitanism in Korea / Mun-Cho Kim; 9. A Netnographic Case Study of Western Expatriates' Attitudes towards the Chinese in Shanghai / Henrik Gert Larsen, Leslie Wolowitz
Part IV. The Practice of Interculturality: 10. Theorizing Interculturality in Indigenous Healthcare: A Case from a Rural Intercultural Hospital in Mexico / Jennifer Hale-Gallardo; 11. Tourist Destination Marketing and Interculturality: The Polish City of Krakow in the British Press / Irmina Wawrzyczek; 12. Do the Folk Believe that They Can Speak their Way into Interculturality? / Kara McBride and Jingyun Gu.