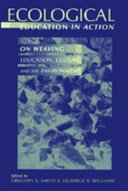 Ecological education in action : on weaving education, culture, and the environment /
Ecological Education in Action celebrates the work of innovative educators in North America who explore ecological issues in school and non-school settings. These educators demonstrate how to reshape the thinking of children and adults to affirm the value of sufficiency, mutual support, and communit...
Bibliographic Details
Other Authors:
,
Format:

Book

Language:

English

Published:

Albany, NY :

State University of New York Press,

©1999.



Subjects:
Table of Contents:
Stories from our common roots : strategies for building an ecologically sustainable way of learning / Joseph Kiefer and Martin Kemple
Deepening children's participation through local ecological investigations / Paul Krapfel
From human waste to the gift of soil / Madhu Suri Prakash and Hedy Richardson
From margin to center : initiation and development of an environmental school from the ground up / Dilafruz R. Williams and Sarah Taylor
Exploring children's picture books through ecofeminist literacy / Elaine G. Schwartz
Education indigenous to place : Western science meets native reality / Angayuqaq Oscar Kawagley and Ray Barnhardt
Liberation and compassion in environmental studies / Stephanie Kaza
Changing the dominant culture perspective in education / C.A. Bowers
Environmental autobiography in undergraduate educational studies / Peter Blaze Corcoran
Reclaiming biophilia : lessons from indigenous peoples / Gregory Cajete
Creating a public of environmentalists : the role of nonformal education / Gregory A. Smith
Reassembling the pieces : ecological design and the liberal arts / David W. Orr.