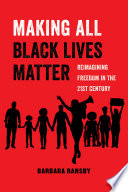 Making all Black lives matter : reimagining freedom in the twenty-first century /
"In the wake of the murder of unarmed teenager Trayvon Martin in 2012 and the exoneration of his killer, three black women activists launched a hashtag and social-media platform, Black Lives Matter, which would become the rubric for a larger movement. To many, especially those in the media, Bla...
Bibliographic Details
Main Author:
Format:

Book

Language:

English

Published:

Oakland, California :

University of California Press,

[2018]



Series:
American studies now ; 6.

Subjects:
This item is not available through EZBorrow. Please contact your institution's interlibrary loan office for further assistance.
Lehigh
Holdings details from Lehigh

| | |
| --- | --- |
| Call Number: | Electronic book |
Lafayette
Holdings details from Lafayette

| | |
| --- | --- |
| Call Number: | Electronic book |
Villanova
Holdings details from Villanova

| | |
| --- | --- |
| Call Number: | E185.615 .R26 2018 |