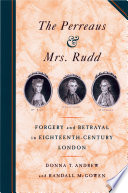 The Perreaus and Mrs. Rudd : forgery and betrayal in eighteenth-century London /
This is the remarkable story of a complex forgery uncovered in London in 1775. The Perreau-Rudd case preoccupied a public hungry for sensationalism. The authors offer a vivid panorama of London and a gauge for tracking the shifting social currents.
Bibliographic Details
Main Author:
Other Authors:
Format:

Book

Language:

English

Published:

Berkeley :

University of California Press,

©2001.



Subjects:
This item is not available through EZBorrow. Please contact your institution's interlibrary loan office for further assistance.
Villanova
Holdings details from Villanova