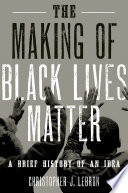 The making of Black lives matter : a brief history of an idea /
The #BlackLivesMatter movement has become a media and political phenomenon, but, as Christopher J. Lebron points out in this book, it is part of an older and richer tradition arguing for the equal dignity of black people. Lebron lays out the genesis of the ideas that have built the movement, present...
Bibliographic Details
Main Author:
Format:

Book

Language:

English

Published:

New York, NY :

Oxford University Press,

[2017]



Subjects:
Table of Contents:
Introduction: naming the dead in the name of the living
American shame and real freedom
Cultural control against social control: the radical possibilities of the harlem renaissance
For our sons, daughters, and all concerned souls
Where is the love? the hope for America's redemption
The radical lessons we have not yet learned
Afterword: nobody's protest essay.