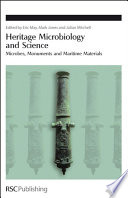 Heritage microbiology and science : microbes, monuments and maritime materials /
Comprehensively covers the key topical areas of heritage science and discusses the threats to a wide range of heritage materials and monuments by biological and chemical agents of decay.
This item is not available through EZBorrow. Please contact your institution's interlibrary loan office for further assistance.
Lehigh
Holdings details from Lehigh

| | |
| --- | --- |
| Call Number: | Electronic book |
Villanova
Holdings details from Villanova

| | |
| --- | --- |
| Call Number: | AM141 .H47 2008 |