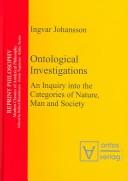 Ontological investigations : an inquiry into the categories of nature, man and society /
Bibliographic Details
Main Author:
Format:

Book

Language:

English

Published:

Frankfurt :

Ontos Verlag ;

2004.



Edition:

[2nd ed.].

Series:
Reprint philosophy ; v. 4.

Subjects:
Search Result 1
by
Johansson, Ingvar
Frankfurt : [New Brunswick, NJ] : Ontos Verlag ; Distributed in North America by Transaction Books, 2004
[2nd ed.].
//IF NOT LOGGED IN - FORCE LOGIN ?> //ELSE THEY ARE LOGGED IN PROCEED WITH THE OPEN URL CODE:?>
Search Result 2
This item is not available through EZBorrow. Please contact your institution's interlibrary loan office for further assistance.
Search Result 3
//IF NOT LOGGED IN - FORCE LOGIN ?> //ELSE THEY ARE LOGGED IN PROCEED WITH THE OPEN URL CODE:?>