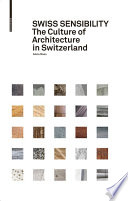 Swiss sensibility : the culture of architecture in Switzerland /
"Contemporary architecture in Switzerland is influenced by Peter Zumthor and Herzog & de Meuron, recipients of the Swiss Pritzker Prize, as well as a number of other prominent architects. The book presents 25 buildings in Switzerland designed by 16 influential Swiss architects: The range co...
Bibliographic Details
Main Author:
Format:

Book

Language:

English

Published:

Basel, Switzerland :

Birkhäuser,

2017.



Subjects:
Table of Contents:
Foreword
Miller & Maranta
Buchner Bründler
Beautiful Business
Herzog & De Meuron
Diener & Diener
Nickisch Walder
Swiss Architecture from Elsewhere
Gion A. Caminada
Jürg Conzett
Peter Zumthor
Savioz Fabrizzi
Andreas Fuhrimann / Gabrielle Hächler
Valerio Olgiati
A Cultivated Ordinariness. Cultural Models In Recent Swiss Architecture
Bearth & Deplazes
:MLZD
Studio Vacchini
EM2N
Conditions of Practice
Biographies.